Family Sunday - Rock puppets
Date: 9 October
Time: 12:30-15:00
Price: 50 SEK / person
Welcome to a few hours of creative creation for the whole family, with demonstration and workshop!
On Family Sunday, October 9, we create our own cut-out dolls with associated wardrobe. Together, we first take a look at the museum's own costume and textile exhibition and let ourselves be inspired by the colors of the costumes and the richness of variety in the creative creation.

During family Sundays, we work with themes that pick up
inspiration from our collections and exhibitions. The programs begin with a short screening, then children and adults work together in the workshop with creative creation, and experiment with different materials and techniques based on the day's theme.

Advance booking is required, book via Tickster
Recommended age from 5 years accompanied by an adult. In some cases, a higher age is recommended, which will be communicated in connection with the specific occasion.
Keep an eye on the website and social media for an updated programme.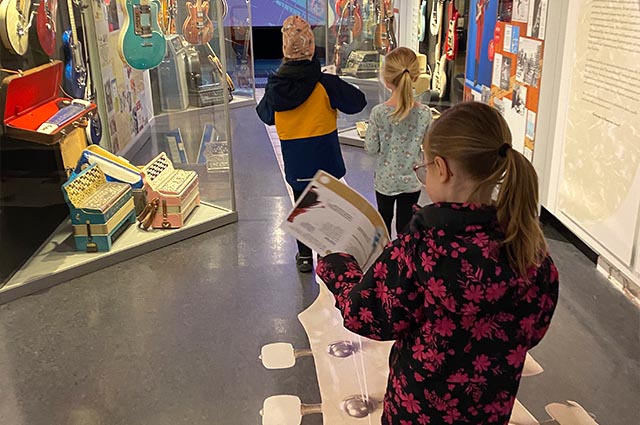 Sneak in on Mörksuggan's trail!
The tricky questions are suitable for children from 6 years. Smaller children can only look for Dark Sows.
I have hidden in dark corners of the museum.
Bring the family, be enchanted by the mystery and come here and look for me!
The dark suction booklet is picked up at the reception.
Mörksuggan's buddy bingo!
Find Mörksuggan's animal friends.
Compete against yourself or against a friend.
Suitable for ages 9 and up.
Bingo cards are picked up at the reception
The tannery - Children's workshop
At the Dalarna museum, visitors big and small are welcomed to our children's workshop where there are free activities that you can do on your own.
Community fabric
Welcome to weave in our large wall frames! Weave freely with different materials and contribute to a large community fabric. Both young and old are free to experiment. We look forward to seeing the weaves grow.
Color a valley painting
Be inspired by our valley painting collection and color your own valley painting.