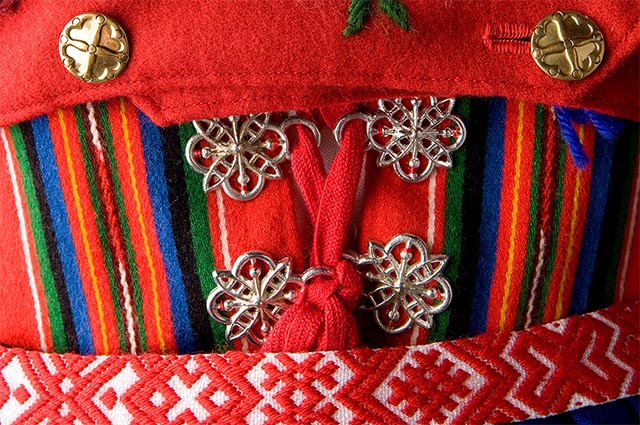 Memories from Dalarna
-a guided tour of the museum
Viewing every day in Swedish, not Mondays when the museum is closed.
Sunday v.25 - Sunday v.33.
Time: kl. 13.30.
Price: SEK 95 per adult and SEK 40 children (up to 20 years, recommended age from 7 years) 0-6 years free.
Guided tours in English every Tuesday, Wednesday, Thursday and Friday. Between w.26 - w.33.
Time: 3.30pm
Price: 95 SEK adult and 40 SEK children
Pre-booking is recommended.
Why did the valley hills need a walk-in closet?
What did the farmers think a crocodile looked like in the 1700th century and how did a small painted wooden horse become a symbol for the whole of Sweden?
These are some of the questions answered during this tour through the museum's most popular exhibits.
We tell about the people, the craft and the forward-thinking spirit that has characterized Dalarna throughout history and is reflected in our days.
This tour is for everyone and gives a small taste of Dalarna's diversity

Limited number of places, pre-booking is recommended. Booking link coming.
Paw through Falun - a historical treasure hunt
The blackbird has hidden a treasure and does not want to tell where it is. Fortunately, we got a map! A city walk for children where we playfully discover and explore the city and its history. Come along and look for the treasure!
Dates: 1, 8, 15, 22, 29 July and 5 Aug.
Kl: 10.15 -11.00

Start: Outside Dalarnas museum's entrance
Recommended age 4-10 years (NOTE participating children must bring a responsible adult during the hike) The trip is 1 km long.
Price: SEK 95 / child, up to 2 accompanying adults free of charge (more adults SEK 95 / piece) Children 0-3 years free.
Pre-booking required. Booking link coming.
Visible and invisible in Falun - Sweden's second largest city?
A hike focusing on historic Falun. The 1600th century is an interesting and important period in the city's history. Join us on a tour where we show both what is visible in today's city and with the help of archaeological results tell about what is hidden under the surface. The trip is about 3km.

Dates: 7, 14, 21, 28 July and 4 Aug.
Kl: 10.00 - ca 11.30
Start: Outside Dalarnas museum's entrance
Price: SEK 150 / person (free of charge for accompanying children under 18)
Pre-booking required. Booking link coming.

Book a guided tourg
Get more out of your museum visit
Through a tour of our exhibitions, you get an in-depth knowledge of Dalarna's cultural history. We offer tours for, for example, school classes, SFI, associations, tourist trips and private parties.
The recommended maximum size for a group is 25 people.
Send your booking request to bokning@dalarnasmuseum.se

Price for groups:
During regular opening hours, Tue-Fri:
SEK 570 up to 5 people. Over 5 people add SEK 95 / person. Accompanying children / youth under 20 years free.
Maximum price SEK 1 (corresponding to 520 people).
Outside regular opening hours, red days and Sat and Sun:
SEK 1 up to 140 people. Over 5 people add SEK 5 / person. Accompanying children / youth under 190 years free.
Maximum price SEK 3 (corresponding to 040 people).
The cost for caretakers is added for bookings outside regular opening hours of SEK 678 / started hour.