How to book school programs
Send email to: bokning@dalarnasmuseum.se
label the email: School program.
Let us know the following:
-day
-time
-time schedule
contact information (telephone and e-mail)
-school's name
-grade
-number of students
invoice address and possibly reference number
Which year groups / groups do we accept? Everyone, from 5-year-olds in preschool to students in college and SFI classes.
Do you have your own wishes about how you want to use us, our exhibitions and our knowledge - contact us and we will find a solution!
Culture Offer Day Children & Young People 2023
Friday 13 October 09.00 - 16.00 the cultural activities in the region are planning a joint supply day aimed at those who buy children's culture. The invitation to this will come shortly! If you have any questions, don't hesitate to contact Theres Vidin at Musik i Dalarna or Janna Nolgård at Dalateatern. We who organize the day are Musik i Dalarna, Dalataetern, Hemslöjden i Dalarna, Avesta Art, Dalarna museum, Bild & form, Film i Dalarna, the County Library and Spelkulturen.
SIGN UP HERE.
Folk art today and yesterday - Jewelry with recycling for everyday life and parties.
Go. 3-9
Price: SEK 450 / SEK 800
Group size: 16 pcs
Length: 30-120 min
Book 19 Sept – 10 Nov 2023
Folk art is beautiful and fun objects that people in the countryside created for themselves,
neighbors or friends for everyday and party use. The desire to adorn oneself and to decorate is ancient, universal and global. A viewing in the exhibition gives you and your students new inspiration for the subjects of crafts and images. Afterwards, there is the opportunity to work in the workshop with recycled materials. Can be linked to the Global Goals: Number 12 sustainable consumption and production.
Target group: Year 3 up to Year 9, but the content can be adapted to other ages.
Read more about the program here…
Exhibition: Karin Ferner
Loads, slimes and crowns in the spirit of recycling 15 September – 12 November
The image of Dalarna –
Nationalism and identity
Go. 7-9 and high school
Price: 450 kr
Group size: 20 pcs
Duration: 60 min
Book Sept – Dec 2023
At the turn of the century in 1900, Dalarna appeared to many as genuine and unspoiled by external influences. Artists, writers and tourists traveled here to discover green rolling landscapes, costumes, crafts and other folk traditions. With these characterizing elements, Dalarna also came to have a great symbolic value for Sweden and its population - but how does that happen? Join us on a tour through the museum where we take a closer look at historical events and objects that became the basis for the idea of ​​a Swedish identity during the national romance.
Näcken
and the fiddler
Go. F-class ride.3
Price: 1000 kr
Group size: 20 pcs
Duration: 75 min
Book Sept – Dec 2023
According to old folklore, there are a number of beings that populate the world and that have had different functions.
Here you are treated to an interactive performance based on old stories about fiddlers and necks. How is the fiddler to become a master fiddler, he needs help and seeks out the necks.
After the performance, we talk about some beings that exist in our folk beliefs and what their functions were once upon a time. With inspiration from the traditional stories, the children themselves get to create their own being.
Paw through Falun
– a history treasure hunt
Go. F-class ride.2
Price: 450 kr
Group size: 20 pcs
Duration: 60 min
Book Sept – Oct 2023
The Dark Sorcerer has hidden a treasure and doesn't want to tell you where it is. Luckily we have
grab a map! Join us on a treasure hunt, where we playfully discover and explore
Falun and its history. The same history as today is the basis for the city,
the mine and the miners' village have been designated a world heritage site. The tour is 1 km long.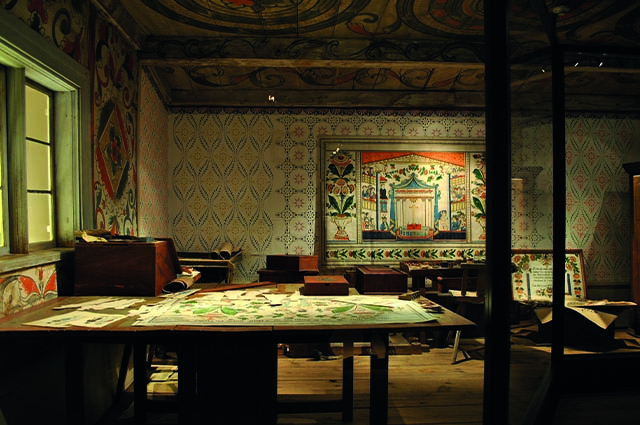 Valley painters for a day - what, how and why did the valley painters paint?
Go. 3-6, 7-9 and high school
Price: 800 kr
Group size: 16 pcs
Duration: 120 min
Book Sept – Dec 2023
How did the valley painters get inspiration and what colors and techniques did they use when they painted cabinets and walls in the 1700th and 1800th centuries? What were the living conditions in Dalarna in the middle of the 1700th century and how is it that valley painting started at that time? Together we look at our solid collection of valley paintings and dive deep into a few selected works and talk about content and its background. What motifs did they paint and why did they paint?
After that, there will be a workshop in our workshop where you can try out the technique and make your own valley painting. If you only want a viewing, that's fine too.
Welcome to be a valley painter for a day!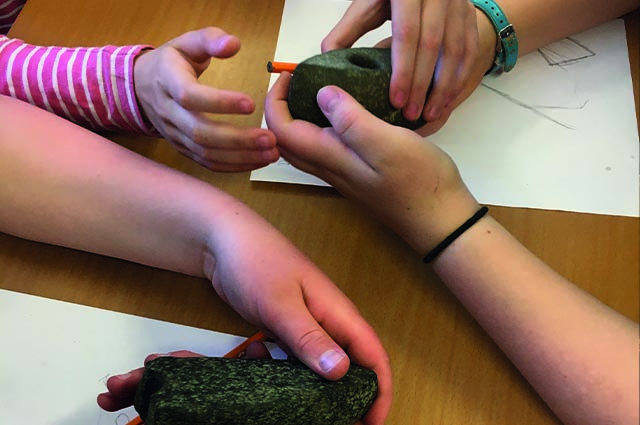 Feel the history - about archeology and the people of antiquity
Go. 3-6
Price: 800 kr
Group size: 24 pcs
Length: 120 min
Book Sept – Dec 2023
We recommend the program primarily for grades 3-6, but the content can be adapted so that it is also suitable for F-class up to grade 9.
In the school program Feel the story students learn more about archeology as a method and source of knowledge, as well as about the conditions the people who lived in ancient times had and how they used the resources they had available in the local area. Together with an archaeologist / educator from the Dalarna museum, we talk about things such as:
What does an archaeologist do?
How to use archaeological source material to ask questions of the material and learn about ancient times and thus gain knowledge about the people who lived in Dalarna several thousand years ago.
What is preserved in the ground and what is not preserved?
About the importance of being source-critical towards the material to be interpreted.
What to do if you find something really old?
About timelines and different perspectives on time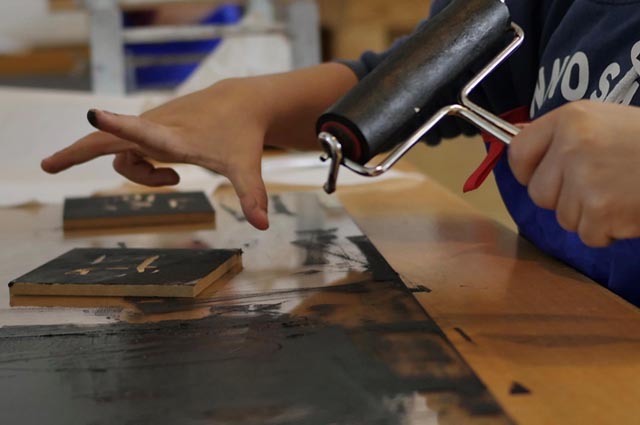 Discover and explore the graphics - Who were the Falugraphics?
Go. 5-9 and high school
Price: 800 kr
Group size: 16 pcs
Length: 120 min
Book Sept – Dec 2023
We explore Dalarna Museum's graphic collection, where the students can take part in art graphic works by, among others, the Falugrafikers. What is graphics and how have you worked with the various art graphic techniques throughout the ages. Through dialogue, we explore the art together, which is followed by a workshop in our workshop where the students get to test a graphic technique and make their own graphic prints.
Visit the museum on your own
Consider the following:
Notify in advance which day and time you intend to visit the museum. Wait for an answer from us that it is ok, that it does not conflict with other activities.
State which school, grade, how many students and if student groups come at different times
Place the visit during the museum's regular opening hours at 11:00-17:00, only in exceptional cases can we open before regular opening hours.
Send email to: bokning@dalarnasmuseum.se
Sign up for your email address to receive school newsletter