Lots of knowledge
To order, send an e-mail to butiken@dalarnasmuseum.se
Shipping is added to the price.
Here you will find Archaeological reports.
Here you will find Building Reports.
Sami tracks – Dalarna – Gävleborg – Västmanland
Yearbook 2022.
Price: 250: -
Sami traces can be found in nature, in the traditions, and in the archives. There has been a Sami population in Central Sweden for a long time, but despite the fact that there are many sources, little is known about who these people were and how they lived. Why is that so?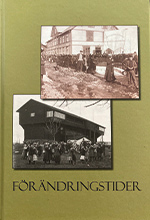 Times of change
Yearbook 2021.
Price: 199: -
We can read about the rise of Swedish democracy, about the women's struggle and about Gustav Vasa's history in various forms of truth and fiction in this yearbook, which is dedicated to anniversaries which give perspective and different ways of seeing and interpreting our history.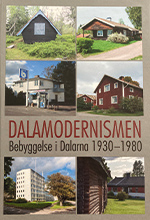 Dala modernism-Buildings in Dalarna 1930 – 1980.
Yearbook 2020.
Price: 199: -
What was built in Dalarna during
the period 1930–1980? What remains of buildings from the modern era in the landscape? How did modernism relate to the traditional building culture.
Shelter landscape and grassland music.
Yearbook 2019.
Price: 195: -
In this anthology, we get to follow the journey of kulling and horn songs from shack walls, through art musical compositions, recordings and notes, to stages and royal salons. Portrait of a shack farmer and vaal musician.
Photographers in Dalarna
Yearbook 2018.
Price: 195: -
In this book, the art of photography and its practitioners in Dalarna are presented with both definitions and perspectives. We get to follow the landscape's photographers, born or active in the county, through their professional activities in short or long reports.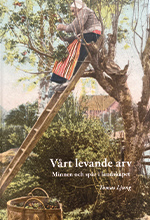 Our living heritage - Memories and tracks in the landscape
Yearbook 2017.
Price: 195: -
In countless ways, people throughout the ages have used the diversity of the living landscape and left traces in the ground and in the trees. In this book, some of all these stories from Dalarna's forest and countryside are intercepted.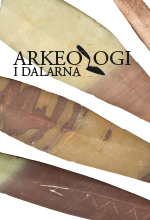 Archeology in Dalarna
Yearbook 2016.
Price: 250: -
During the long span of time covered by the book, approximately 350 generations of hill and valley people with different geographical, ethnic, linguistic, religious and cultural backgrounds have met, supported, mixed and together created lives and forms of society.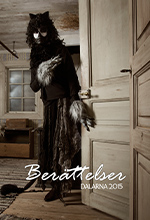 Stories
Yearbook 2015.
Price: 20: -
Dalarna's local community associations contribute stories from their communities to this book. The stories depict everything from human destinies, emigration, unhappiness, accidental shootings, lavish gifts, wise old men and old women to the village's church bells.
Children and young people
Yearbook 2014.
Price: 20: -
In a number of articles, we get to meet the creative power and creativity of children and young people from different places in the county. We get to share the stories from contemporary cultural forms such as the Ethnocamp in Rättvik, graffiti, skateboarding, pop kollo and revue art.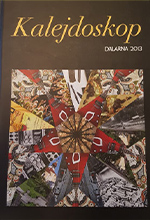 Kaleidoscope
Yearbook 2013.
Price: 20: -
Dalarna - a kaleidoscope - multifaceted, colorful and exciting. The blue color - Siljan and Dalälven, the green - the landscape's small hidden villages and the cool greenery of the cemetery, the white - the churches with interiors, the red - the theater and music.
Fixed!
Yearbook 2012.
Price: 20: -
It is (2012) 150 years since the antiquities association was formed and 50 years since the Dalarna museum was inaugurated. This is celebrated in this year's book with a well-composed menu, which includes everything from set tables to food, drinks, music and other festivities.
Dala mixture
Yearbook 2011.
Price: 20: -
In the Hembygdsförbundet's own candy bag "Dalablandning" this year, many delicacies are combined to satisfy all tastes. Enjoy colorful women and men, interesting buildings and museum pralines. The book offers an adventure candy.
Museums in Dalarna
Yearbook 2010.
Price: 20: -
A midsummer celebration without fiddler's music and maypoles on the homestead yard! Who wants to vacation in Dalarna in the summer? An inspiring read about a range of exciting museums and their impressive work in preserving and displaying our cultural heritage.
Women's life
Yearbook 2008.
Price: 20: -
Women from different times and with different backgrounds, more or less known, appear in the local history association's yearbook Dalarna 2008. They have all in one way or another left their mark on the landscape through their deeds of life.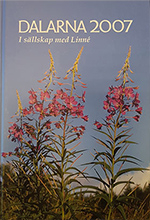 In company with Linne
Yearbook 2007.
Price: 20: -
The celebration of the 300th anniversary of Linnaeus' birth. In the company of Linné and his fellow students, we make a trip through Dalarna in 1734; seen from different authors' aspects. The yearbook also contains interesting articles about the Dalarna landscape.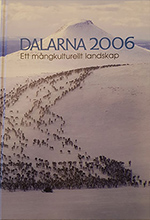 A multicultural landscape
Yearbook 2006.
Price: 20: -
Dalarna is becoming a region increasingly characterized by ethnic and cultural diversity with each passing day. People from all over the world live in Dalarna. All world religions are represented and you see people of different origins on the streets, in the workplaces and in the schools every day.
A journey through time and space
Yearbook 2005.
Price: 20: -
Gustav Vasa is well known in Dalarna, but how many know about Jo-Persgubben, Wilhelmina Skogh or Sven Nilsson and that Dalarna has the oldest timber houses in Sweden? The book offers a valley journey through the centuries from north to south.
Our local associations
Yearbook 2004.
Price: 20: -
Boken is a tribute to all of Dalarna's hometown associations, for their non-profit commitment and love for their own hometown. It shows the extensive activities of the homestead movement on beautiful homesteads and in urban and industrial environments.
Dalarna 2003
Yearbook 2003.
Price: 20: -
The book contains a mixed content with current research results written in popular science form. Here we can read everything from archeology to the nationally known, annually recurring Dance Band Week in Malung.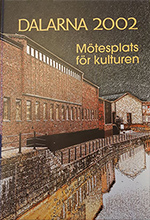 Meeting place for culture
Yearbook 2002.
Price: 20: -
A commemorative publication for the Dalarna museum. On May 3, 1962, Dalarna's museum opened its doors to the public as Sweden's most modern county museum at the time. With its roots from 1862, the Dalarnas museum belongs to the country's oldest county museums
Jewish traces in the history of Dalarna
Released: 2022
Only available digitally.
Link further down.

This is the first proper study conducted on the historical presence of the Jewish minority in Dalarna. And it offers interesting content about a part of Dalarna's history that has so far been quite sparse.
Read the full study here.